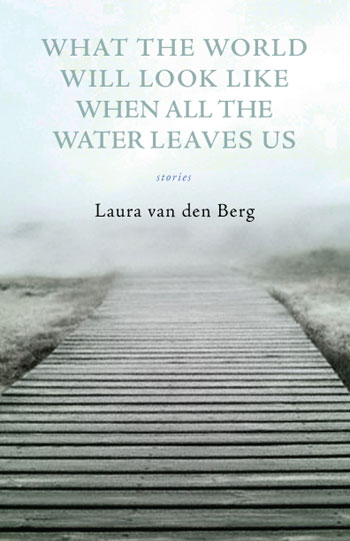 The stories in Laura van den Berg's rich and inventive debut illuminate the intersection of the mythic and the mundane.
A failed actress takes a job as a Bigfoot impersonator. A botanist seeking a rare flower crosses paths with a group of men hunting the Loch Ness Monster. A disillusioned missionary in Africa grapples with grief and a growing obsession with a creature rumored to live in the forests of the Congo. And in the title story, a young woman traveling with her scientist mother in Madagascar confronts her burgeoning sexuality and her dream of becoming a long-distance swimmer.
Rendered with precision and longing, the women who narrate these starkly beautiful stories are consumed with searching for absolution, for solace, for the flash of extraordinary in the ordinary that will forever alter their lives.
Stories from this collection have appeared in One Story, American Short Fiction, The Literary Review, Boston Review, and The Indiana Review, among other publications.
Barnes & Noble selected What the World Will Look When All the Water Leaves Us as a 2009 Holiday Pick for their "Discover Great New Writers" Program, and the collection was longlisted for the Story Prize and shortlisted for the Frank O'Connor Award.
"Where We Must Be," first published in The Indiana Review, was reprinted in The Best American Nonrequired Reading 2008. "Up High in the Air," first published in Boston Review, will be reprinted in Best New American Voices 2010, and the title story, which originally appeared in One Story, will be re-printed in The Pushcart Prize XXIV: Best of the Small Presses.
What Others Have to Say:
"van den Berg taps into her characters' losses with an impressive clarity…these tales are the work of a notable author finding her voice."
— Publishers Weekly
"Stunning, desolate, and unforgettable."
— Booklist (starred review!)
"These characters lose themselves, intentionally and otherwise, but they've got the courage to go about finding themselves, or changed versions of themselves, in the elegant process of drowning, cleansing, and rebirth."
— The Believer
"The mysteries of science and the mysteries of the heart—perhaps nowhere have they been so proactively linked as in this debut short-story collection."
— Barnes & Noble
"…a young writer with talent to burn; the beauty of her writing is matched only by the fierce emotional empathy for her characters."
— The Courier-Journal
"Van den Berg has achieved something miraculous with What the World Will Look Like When All the Water Leaves Us, taking us to the very near dimension of everyday life through kaleidoscope binoculars. Her characters are imbued with the imaginative power of a Wonka glass elevator. Through their eyes, we begin to see all possible worlds—suspension of disbelief becomes a lifestyle."
— The Weekly Dig
"…it is with the final and eponymous "What the World Will Look Like When All the Water Leaves Us" that the full possibility of van den Berg's writing is realized. This story of a woman who drags her teenage daughter (the narrator, here) to Madagascar in search of nature's most beguiling creatures, finds a perfect balance between the metaphorical and the real, as the daughter is both plagued and compelled by the vast expanse of water that surrounds her. With exquisite attention to detail, van den Berg creates a fantastic world underscored with restrained gravitas—a fitting end to a lovely debut."
— L Magazine
"Read just one of the stories in Laura van den Berg's debut short-story collection…and you'll realize why she is being hailed as a literary sorceress in her native US."
— Courier Mail
"This is rich, complex, satisfying, storytelling."
— Media & Culture (Australia)
"What the World Will Look Like When All the Water Leaves Us…is an impressive, memorable debut that really couldn't be more perfect."
— ABC National Radio (Australia)
"In her debut collection, What the World Will Look Like When All the Water Leaves Us, Laura van den Berg finds the tension between science and magic and walks it like a tightrope. These stories find the common ground between myth and the human condition, exploring the inner lives of men and women who cross paths with the Loch Ness monster, or Bigfoot, or lemurs in Madagascar whose screams can turn a heart into stone. It is a fantastic and fascinating world, full of discoveries and moments of wonder, a book meant for the explorer in all of us. Any reader will be glad to have found it."
—Hannah Tinti, author of The Good Thief
"What the World Will Look Like When All the Water Leaves Us is a lovely, remarkable book, full of people who strive mightily to believe in things "Bigfoot, the Lochness and Lake Michigan monsters, a tunnel leading to the other side of the world, husbands, wives, lovers, parents" they shouldn't. But Laura van den Berg lets her characters believe, and believes in them, and makes us believe, and care, too. Calm, wry, and compassionate, somehow all at once, this book is impossible to resist, and I'd bet big money that we'll be talking about Laura van den Berg and her fiction for years to come."
— Brock Clarke, author of An Arsonist's Guide to Writers' Homes in New England
"In her first collection Laura van den Berg creates a series of remarkable characters each of whom is striking out for territory unknown, plunging into an uncharted sea. I love the exhilarating sense of adventure in these stories, how they make the world seem larger, and how van den Berg maps our familiar pains in strikingly new ways. What The World Will Look Like When All The Water Leaves Us is a dazzling and original debut."
— Margot Livesey, author of The House on Fortune Street and Eva Moves the Furniture
"There is a special kind of magic in the writing of Laura van den Berg, a damp-eyed sorceress who blends the mythological with the everyday, buoyant playfulness with lacerating sadness. Each sentence reads like a beautiful bruise smeared across pages as pale as the bodies that so often strip off their clothes and tangle together in these tender, elegant stories."
— Benjamin Percy, author of Refresh, Refresh and The Language of Elk
"Discussions about debuts often allude to promise, as if to imply that better things will come, but in this particular case, there's no need to wait. Laura van den Berg's talents are already fully formed, and spectacular. This collection has searing emotions, a technical virtuosity, and a lyrical ferocity that dazzle us with undeniable force. Breathtakingly, we follow her characters as they seek escape in far-flung locales, both real and imagined, searching for that rarest of species "the feeling that they belong."
— Don Lee, author of Wrack and Ruin and Yellow