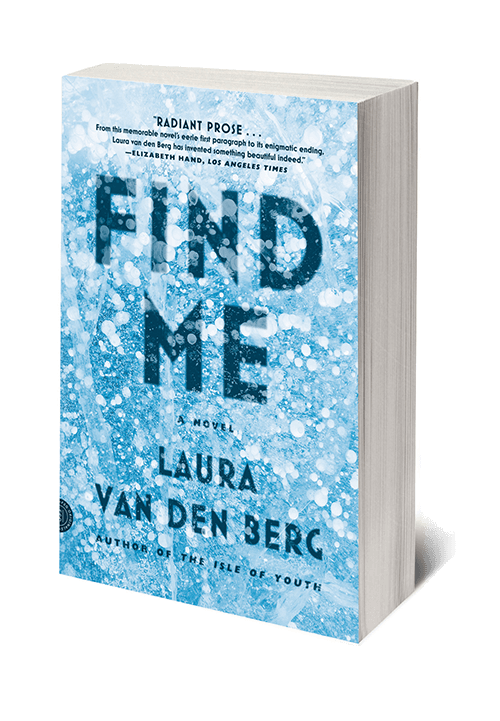 A gripping, imaginative, darkly funny tale of a young woman struggling to find her place in the world.
Joy has no one. She spends her days working the graveyard shift at a grocery store outside Boston and nursing an addiction to cough syrup, an attempt to suppress her troubled past. But when a sickness that begins with memory loss and ends with death sweeps the country, Joy, for the first time in her life, seems to have an advantage: she is immune. When Joy's immunity gains her admittance to a hospital in rural Kansas, she sees a chance to escape her bleak existence. There she submits to peculiar treatments and follows seemingly arbitrary rules, forming cautious bonds with other patients–including her roommate, whom she turns to in the night for comfort, and twin boys who are digging a secret tunnel.
As winter descends, the hospital's fragile order breaks down and Joy breaks free, embarking on a journey from Kansas to Florida, where she believes she can find her birth mother, the woman who abandoned her as a child. On the road in a devastated America, she encounters mysterious companions, cities turned strange, and one very eerie house. As Joy closes in on Florida, she must confront her own damaged memory and the secrets she has been keeping from herself.
Selected as a "Best of 2015" by NPR * Time Out New York * Buzzfeed * Booklist * Bustle * Vol. 1 Brooklyn * The Baltimore City Paper * Strange Horizons * Book Riot * The Improper Bostonian * Cosmopolitan Magazine "50 Things to Do This Month" * BBC 10 Books to Read in 2015 * Kirkus 11 Brand-New Books You Shouldn't Miss

Longlisted for The Dylan Thomas Prize, The Center for Fiction First Novel Award, & The Guardian Not The Booker Prize

Interviews with NPR Weekend Edition * To The Best of Our Knowledge * The Washington Post * Salon * WAMC * The Boston Globe
Praise
"Pleasingly strange… impressively original… In van den Berg's fiction, much is left unexplained. The bizarre and the mundane often bump up against each other, shrug and join forces… FIND ME has a funny way of resonating beyond its pages." — Carmela Ciuraru, The New York Times Book Review
"In 'Find Me,' Laura van den Berg eradicates a mere 400,000 of the population, but what she lacks in body count she makes up for by going straight for the psychological jugular. Here confusion and the scramble to make sense of one's present and past is not a side effect of the new world, but its defining feature." — Sloane Crosley, The New York Times Book Review Critic's Take
"Radiant prose…From this memorable novel's eerie first paragraph to its enigmatic ending, Laura van den Berg has invented something beautiful indeed." – Elizabeth Hand, The Los Angeles Times
"van den Berg depicts a life slowly coming into focus–it's blurry and impressionistic at times, sometimes deliriously scattered. But out of the fog of memory and the haze of drugs emerges a sense of clarity that's deep and moving and real." – Michael Patrick Brady, The Boston Globe
"Find Me is both touching and haunting, an extremely powerful look at the fragility of human life, the connections we make in dire circumstances, and the will to survive even when it seems like there's no point." – Michael Schaub, NPR [Best of 2015]
"[FIND ME] powerfully conveys the fact that there are some things in life you don't want to forget. 'Some people stay with you in ways you don't expect, and you try to shake them out, shake them away, but memory won't let you,' says Joy. The same could be said of van den Berg, whose debut novel lingers and aches in the memory."  – Nicole Lee, The Guardian
"An unforgettable and, against all odds, unique tale…Find Me eases into itself, and the deeper we venture into it, the more glorious the book becomes in its embodiment of doubt and self-scrutiny…van den Berg's debut is a keen examination of trying to live under the weight of that choice, and the weight of all else we can't choose." – Tiffany Gibert, Time Out New York
"This powerful debut about memory, loss and stories gets under the skin in a deeply unforgettable way." – Minneapolis Star Tribune
"Spellbinding…a mesmerizing and emotional experience that invites readers to, like Joy, savor life."  – Kelly Luce, O, The Oprah Magazine
"A thoughtful, touching story about survival–about finding ways to heal and reasons to live." – Kim Hubbard, People Magazine
"Laura van den Berg is the best young writer in America…'Find Me' is being compared to Margaret Atwood's 'The Handmaid's Tale' and Kazuo Ishiguro's 'Never Let Me Go.' While it stands up to such fine company, I'd argue that van den Berg has a style, humor and grit that is all her own." – Claire Cameron, Salon
"Van Den Berg's previous collection of stories, The Isle of Youth, won praise for the way in which characters' emotional lives overshadowed its ostentatious conceits (honeymooners crash-landed in Patagonia; twin sisters turned gum-shoe detectives). Find Me is similarly excellent because its narrator, Joy Jones, doesn't so much overshadow the dystopian genre in which she finds herself, as cannibalise it." ― Sam Kitchener, The Independent (UK)
"A haunting exploration of loneliness." ― Steph Opitz, Marie Claire
"Marvelous." ― Elissa Schappell, Vanity Fair
"A startling debut novel, mixing a post-apocalyptic scenario with a coming-of-age story. Often sick-funny and deeply weird, but also moving." ― Barbara Epler, Tank Magazine (Summer Reading Pick)
"…the novel almost dares readers to escape into this weighty, dark world, where everything has unraveled and all the rules have changed, and see just what they can make of its rich emptiness." ―Christine Thomas, The Miami Herald
"An unsettling, off-beat novel about loneliness and love that resonates long after the end." ― Fanny Blake, The Daily Mail
"Laura van den Berg is gifted at creating psychologically complex characters; her observations of the world are deeply poetic." ― Gretchen Shirm, The Sydney Morning Herald
"An unforgettable debut." ― Rowena Walsh, The Irish Independent
"It is a towering achievement – a book piercingly intimate in the most challenging of circumstances. Van den Berg…has been described as one of the finest young writers in America today, and it's easy to see why." An unforgettable debut. ― Beverly Roos-Muller, The Independent (SA)
"Find Me beautifully evaluates memory loss and the stories we tell ourselves." ―Maddie Crum, The Huffington Post
"In addition to her clean, beautiful prose voice – a voice that makes you want to follow it anywhere – van den Berg has an urge as a writer that feels unusual in contemporary literary fiction: her stories have plots. Like her short stories, the novel borrows from the addictive properties of genre fiction and mainstream television. Surprising events happen in Find Me – there are inset stories, sinister characters, trouble lurking everywhere – but van den Berg's ability to render all of them with a high degree of psychological realism gives these twists and turns a degree of inevitability...The whole shimmering novel hangs together and propels the reader forward with its unusual brand of dream logic… By the time I closed the book, I knew Find Me's spectral visions of America would haunt me, and I knew I would want to read it again." ―Anita Felicelli, The Rumpus
"Find Me…is an accomplished, intense and moving exploration of memory and identity." ― Cushla McKinney, Radio New Zealand
"Her first novel is original – experimental, even – but written with remarkable clarity… Van den Berg blends the story of the strange plague with Joy's search for her lost mother into an intoxicating mystery." ―Jane Ciabattari, BBC
"Gorgeously contemplative… Van den Berg's prose is honest and searching, an inquisitive tonic for a destroyed world. Questions plant themselves between paragraphs, unanswered, and curiosity steams through her book like a freight train of hope. Self-discovery has seldom felt like such an optimistic and essential pursuit as it does in the hands of Joy… impossible to forget." ―Hilary Leichter, Electric Literature
"…you'll be blown away by this quiet, affecting novel… Van den Berg's prose is sparse and vivid all at once. Some of her lines are so arresting that I wanted to underline them, mark up the margins with stars or exclamation points." ―Rebecca Kelly, Bustle
"..in Joy's loneliness and desire to connect, we recognize ourselves." ―Kathleen Stone, Los Angeles Review of Books
"Laura van den Berg adds a fresh voice to the burgeoning genre of post-apocalyptic-plague fiction with her new novel Find Me. In this case, the sickness ravaging America isn't just killing people: it's also erasing their memories. Mysteries and metaphors are abundant…Van den Berg's careful, poetic prose will make you think hard about the damage we do to each other and to our world, and how we may be able to go about healing it." ―Rachel Sander, BuzzFeed Books
"If an apocalypse is an uncovering, a move from one state of being to another, then Find Me is indeed the story of an apocalypse—Joy's apocalypse. Laura van den Berg excavates her protagonist's future, offering her readers a steadfast solidarity, even if that solidarity is sometimes chilly, fenced off—as it must be—within the confines of an individual consciousness. Joy feels compelled to make contact with the mother that abandoned her. She wants to embrace her life, but first she must teach herself how to do so." ― Dan Holmes, Paste Magazine
"Find Me…features some of the most beautiful writing I've read in years." ―Nick Moran, The Millions
"Joy asks, 'What is the memory but the telling of a story?' Van Den Berg answers with just that story, told in such elegant prose that the last sentences will leave readers reeling long past the final page." ― Kerry MucHugh, Shelf Awareness
"We follow Joy, Van den Berg's protagonist, through this uncanny landscape, and a reader couldn't ask for a better, more compelling guide: she is equal parts frightened and confident, jaded and hopeful, resigned and mutinous. And this is Laura van den Berg's great strength: capturing with envy-inducing precision the fraught and fragile duality of human experience and connection. Her characters-like so many of us, like maybe all of us – often find themselves caught in Chinese finger traps, often of their own making, and it is something special on the page to watch as Laura van den Berg examines the ways in which they pull at the warp and weft." ―Vincent Scarpa, Tin House Online
"This is perhaps the best evocation of the "hospital as prison" theme since Victor LaValle's underrated horror novel The Devil in Silver. Van den Berg's control of mood and atmosphere is perfectly measured, establishing a haunting balance of claustrophobia and paranoia within the walls of Dr. Bek's facility." ―Kevin Nguyen, Grantland
"…beautifully written… a multilayered story about all of that, with tangents about the internet and technology and how they, ironically, weaken our connections to others, while diving into ideas of memory that completely transcend sentimentality and nostalgia." ―Rebekah Kirkman, Baltimore City Paper
"All in all, these two texts crash through preconceived limitations of gender. They give us women's fiction that runs with the wolves." ―John Domini, Virginia Quarterly Review
"A masterful novel that reads like a fever dream, Find Me is a hypnotic meditation on memory—what's at stake in losing it and what is lost in keeping it." ― Ploughshares
"Van Den Berg, known for her control and clean, slick sentences as seen in her first two collections What the World Will Look Like When All the Water Leaves Us (2009) and The Isle of Youth (2013), is deft at spinning complex plots. Her stories are gripping, filled with lonely characters—lovable head cases with elaborate personalities. Find Me, a master showcase of confidence and craft, is no exception." ― Sabra Embury, L Magazine
"And this is how Van den Berg presents the world to us: as something perpetually and performatively foreign covering up something very raw. The combination makes her world very real, mythic, and feral." ― Adrienne Celt, Bookslut
"So that finally, among the many rewards of Find Me, the greatest reward is the way in which the voice, and Joy's self, lifts us from our own world into another, bringing us miraculously to experience that world from within, then to return to our own with new eyes, new yearnings, a heart somehow made, out of the tangled mess of this world, in the tangled mess of this world, whole again." ―James Sallis, Fantasy & Science Fiction
"Van den Berg sets up this unsteady search by gracefully, delicately creating a world so close to our own that it's almost rather a parallel universe than a fiction–a place where that one wrong turn, that one key decision or difference has rippled out and changed everything. Everything, of course, but the people, who are still recognizably, poignantly human. To her credit, van den Berg is more interested in the survivors than the landscape. She's more interested in what the static of loss and waiting drives them to." ― Amber Sparks, Fanzine
"ind Me is in its entirety a beautiful, complex and thoroughly engrossing work of art, a novel in which aesthetic and subject matter, science fiction and literature, exist in glorious harmony." ― Nina Allen, Strange Horizons
"Joy's yearning is, ultimately, infectious… There's a gargantuan amount of tension built up at the end, like the previous pages were turns on a windup doll. It is as if, in the last two pages, Van den Berg lets go of her hold on the key, and the novel winds itself down in a breathless, beautiful scene where Joy, too, lets go. In the very last scene, ambiguous pronouns leave plenty of space for interpretation. Like with a poem, I love them all equally." ―Kinzy Janssen, The Riveter
"This is one of my favorite novels of 2015, and we're not even in 2015 yet… Van den Berg's short story collections infused me with sky-high expectations for this debut novel, and I was not disappointed. The language is beautiful, spare, and carefully crafted, and the characters are fully realized and unforgettable. There is tension and redemption and insight and even humor in these pages, and they make for a really incredible read." ―Rebecca Schinsky, Book Riot
"This is a stunning debut novel for van den Berg…What makes this book different is that the realism begins to break down once we're out of the hospital; it's a slow descent into the surreal. Van den Berg gives us a mystery and has the confidence to let it end unsolved." ― Laura Creste, Full Stop
"Find Me, her transfixing first novel, is in keeping with her short stories thematically, and yet, in its deep soundings, it's a commanding departure… Van den Berg's enveloping novel of a plague and a seeker in an endangered world reveals what it feels like to grow up unwanted and unknown in a civilization hell-bent on self-destruction. It is also a beautifully strange, sad, and provocative inquiry into our failure to love, cherish, and protect. But ultimately, Find Me is a delving story of courage, persistence, and hope." ―Donna Seaman, Booklist, Starred Review
"Like Margaret Atwood's The Handmaid's Tale or Kazuo Ishiguro's Never Let Me Go, van den Berg's debut novel…presents a frighteningly plausible near-future dystopia grounded in human elements…Joy's quest, and her need to feel cared for, is heartbreakingly real and compellingly wrought…Highly recommended." ― Christine DeZelar-Tiedman, Library Journal, Starred Review
"In Joy, van den Berg has created a voice that never feels false, only lost and dreaming of being found." ―Publisher's Weekly
"I ripped through my review copy in a week flat. Expect this unsentimental dystopian tale to be a blockbuster when it hits bookstores." ―Jessica Bryce Young, Orlando Weekly
"Laura van den Berg's debut novel is tender, psychological and mesmerizing. Joy's voice is a clear and contagious melody that will continue to stay with you long after you put down the book – begging you to hold onto all the things you've ever wished to forget." ―Freddie Moore, LitReactor
"…never before have I read a book that felt like it had me by the throat any time I opened it up. It's a particular sensation, a hand around your neck, and it demands a certain kind of attention: there's an intimacy that comes with the force. Find Me demands to be read, but it is right there with you, holding you close." ―Drew Broussard, Raging Biblioholism
INTERVIEWS & CONVERSATIONS: Boston.com * Portland Press Herald * Los Angeles Review of Books * Tin House * Library Journal Debut Spotlight * The Millions * Vice * Electric Literature * Fiction Writers Review * Midnight Breakfast * The Rumpus* FSG Work-in-Progress * The Platform (UK) * Washington Independent Review of Books * Three Guys One Book * 0s&1s * Critical Flame * The Riveter * Rollins College * Boston Channel 5
Read the first chapter of FIND ME via FSG Book Keeping.